Functional Visual Biomarkers
Neurophysiology of the visual pathway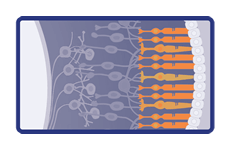 Photoreceptors
Photoreceptors
Rod and Cone function can primarily be isolated in a-waves of photoptic and scotopic ERGs.
Diagnosys Protocols: Scotopic and Photopic ERG, Luminance Intensity Series, Flicker Frequency Series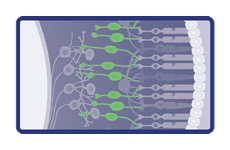 Bipolar
Bipolar
Bipolar cell activity is primarily reflected in the B-wave of the ERG.
Diagnosys Protocols: Photopic and Scotopic ERG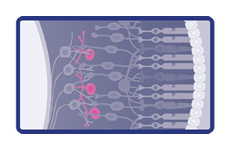 Amacrine
Amacrine
Amacrine cell activity is primarily seen through oscillatory potentials (OPs) of an ERG and may also contribute to the PhNR response.
Diagnosys Protocols: Scotopic and Photopic ERG, PhNR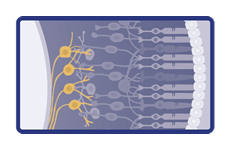 Retinal Ganglion Cells
Retinal Ganglion Cells
Retinal Ganglion Cell activity is primarily measured by pattern ERG (PERG) and contributes to the PhNR response.
Diagnosys Protocols: PERG, PhNR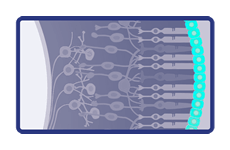 Retinal Pigmented Epithelium
Retinal Pigmented Epithelium
RPE layer response is primarily identified by the C-wave curve.
Diagnosys Protocols: C-wave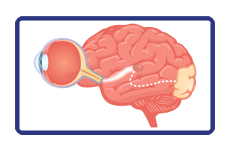 Optic Nerve
Optic Nerve
The VEP response primarily measures optic nerve conduction to the visual cortex.
Diagnosys Protocols: pattern or flash VEP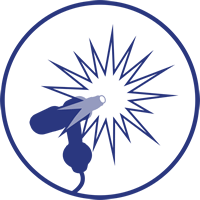 Flash
Choose any color, intensity, frequency, and duration of light for both photopic and scotopic ERG or VEP testing.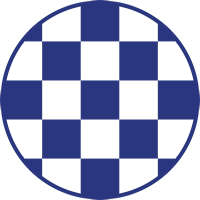 Pattern
Select checkerboard, bar, grating, or multifocal stimulus patterns for both ERG and VEP tests.
Viz Path
Combines ERG, PhNR, C-wave, and VEP to assess the entire visual pathway.

Simultaneous Pattern ERG & VEP
Elicits a simultaneous response from the retina and visual cortex with pattern stimulation.

Scotopic Threshold Response (STR)
Detects light perception threshold with a dark-adapted flash intensity series.

Flicker Frequency Series
Test cone responses to a progressively faster flicker stimulus.

Testimonials
I have used Diagnosys electrophysiology systems for clinical testing and research for nearly fifteen years. The systems are reliable, easy to use and protocols readily modified to answer research questions. The few times I have had problems with the equipment, Diagnosys has quickly responded and fixed the problem.

Diagnosys LLC not only provides high quality testing equipment, but also provides excellent customer support services. All employees are knowledgeable in the field of visual electrophysiology and are able to help with any questions or issues you may have.

As a clinical neurophysiologist in a busy pediatric clinic, I wholeheartedly believe that the equipment made available to us by Diagnosys LLC allows for the testing necessary to aid in clinical diagnostics and research. I have always felt that this family run company has been by my side each and every step of the way, despite being located in another country.

Celeris is the Luxury Vehicle of Electrophysiology! I love Celeris for the vision science field because it grants all investigators access to a wide variety of electrophysiological tests without requiring in depth expertise of the theory of electrophysiology. It's wonderfully simple and easy to operate.