Posted on Friday April 1, 2022
Photopic Negative ERG (PhNR)
A Photopic Negative Response (PhNR) is a test of generalized retinal ganglion cell health and function. Reduced PhNR amplitudes might be indicators for: glaucoma, optic atrophy, central retinal artery occlusion, ischemic optic neuropathy, diabetic retinopathy, or idiopathic intracranial hypertension. 
This protocol uses a low intensity red flash on a rod-saturating blue background. It can be done binocularly with ColorDome, or monocularly with ColorFlash or ColorBurst stimulators. The protocol has two steps: a 1Hz ISCEV standard or a 4Hz that may reduce eye twitching in some people. 
The a- and b-wave responses are similar to a standard white-light ERG. While the PhNR ganglion cell response trails behind the a- and b-wave photoreceptor and bipolar cell responses, respectively.
Example Test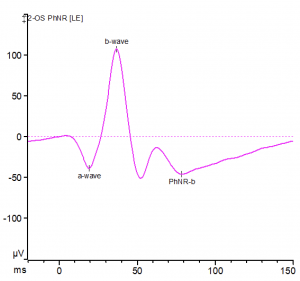 Reference
Frishman, L., Sustar, M., Kremers, J. et al. ISCEV extended protocol for the photopic negative response (PhNR) of the full-field electroretinogram. Doc Ophthalmol 136, 207–211 (2018). https://doi.org/10.1007/s10633-018-9638-x