Posted on Wednesday October 20, 2021
Multifocal ERG (mfERG)
The Multifocal ERG (mfERG) test shows visual function across the macula. This test divides the macula into multiple hexagonal regions. The stimulus is a pseudo-random sequence of black and white hexagons that alternate many times per second. A standard ERG electrode setup is used to record the signal, and mathematical extraction is used to create the multifocal waveforms. A typical multifocal waveform consists of a peak (P1), both preceded by and followed by a trough (N1 and N2, respectively). MfERG responses are primarily derived from cone on- and off- bipolar cells, with additional contributions from cone photoreceptors. The main cellular components of the mfERG response are On- and Off- bipolar cells; cone photoreceptors also contribute to a lesser degree. Hence mfERG can be readily utilized to distinguish between macular and generalized retinal dystrophies, as well as to localize retinal defects. 
Number of Hexagons
A 61 and 103-hexagon stimulus is most commonly used, while 241 and 7-hex are also available. A stimulus with a greater number of hexagons will yield a more detailed map of the retina. However, the trade-off is a longer test time and a greater susceptibility to noise from eye movements. A 61-hexagon stimulus hits the sweet spot between spatial resolution and recording time; thus, Diagnosys provides a Normative Dataset for the 4-minute, 61-hexagon mfERG protocol.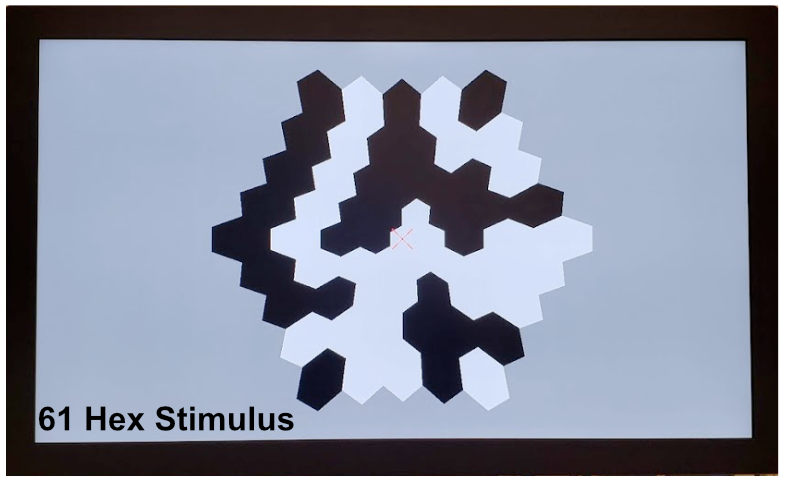 Tips for Test Success
Patients must be able to hold their eyes open and gaze directly at the fixation point in the center of the screen. Any eye movement or eyelid twitching will introduce noise into the recording. Although a certain amount of noise is inevitable, patients who squint and move their eyes will not yield reliable responses. In line with that, patients with Nystagmus are not good candidates for this test and are advised to attempt the full-field ERG instead. 
Example Patient Tests
Normal
A normal mfERG response shows a steep foveal peak with equal distribution of function into the parafoveal retina. Each trace demonstrates a sharp and strong characteristic waveform shape.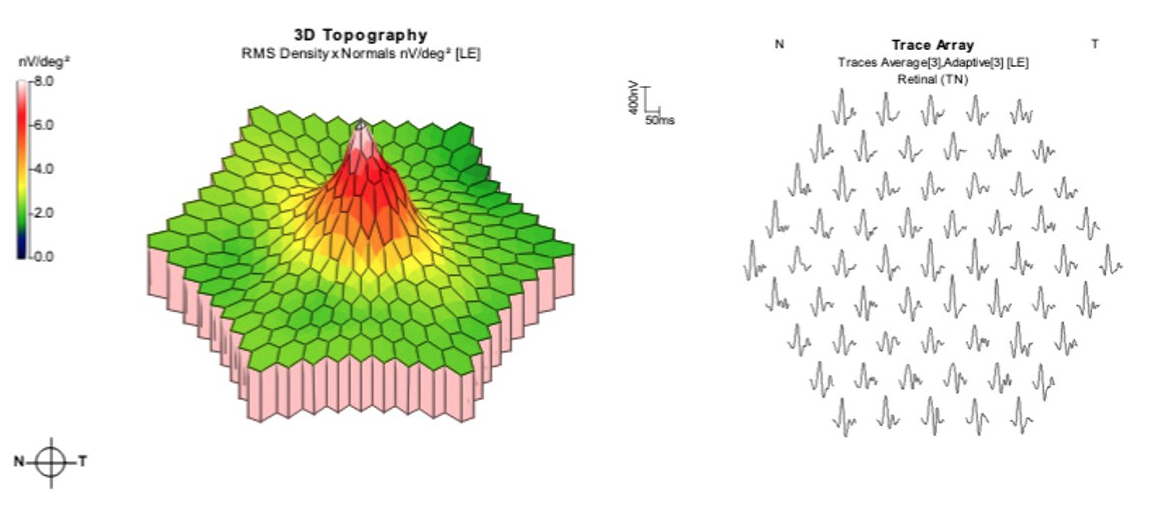 Macular Degeneration 
Here is a patient with late-stage wet AMD. Notice the complete loss of foveal function evident in both the topographical graph and trace arrays. This patient no longer has viable central vision.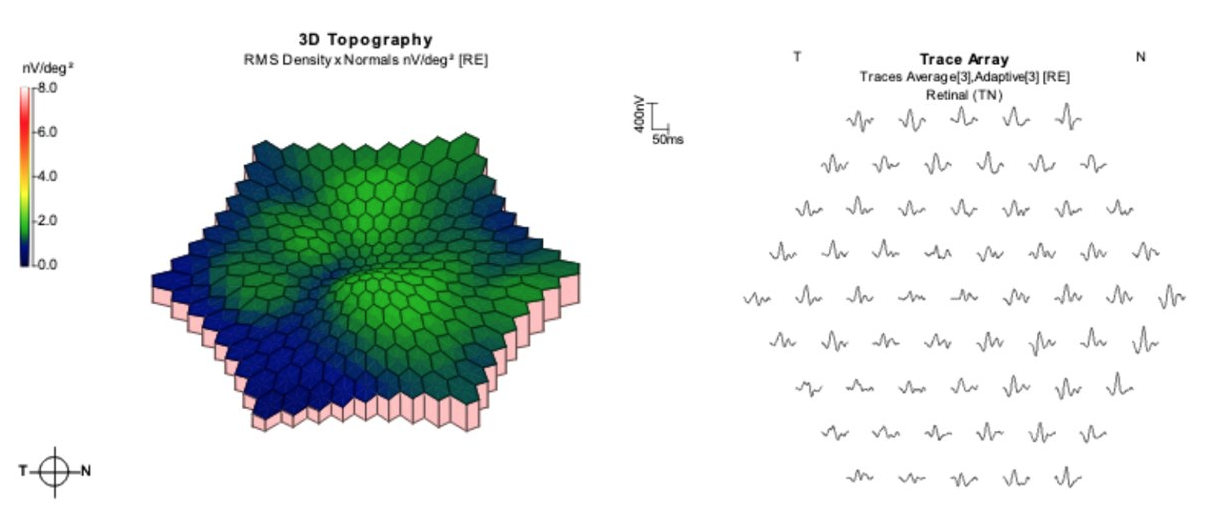 Retinal Toxicity 
This is a retina with diminished parafoveal function due to long-term Hydroxychloroquine use. Reduced parafoveal amplitudes can be seen here in both the topography and trace arrays.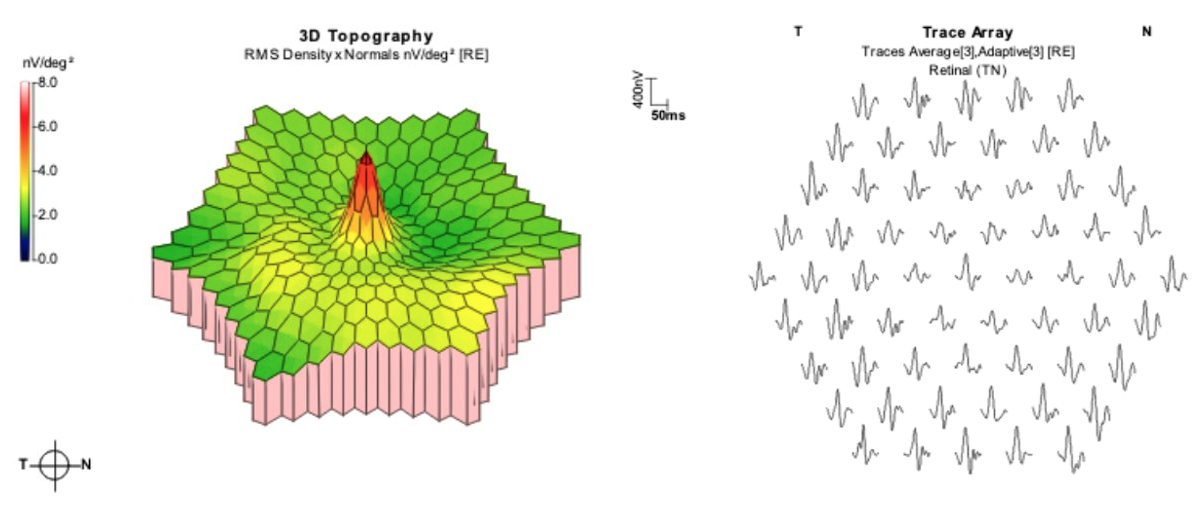 References
Coupland S (2018) Clinical Multifocal Interpretations.
Hoffmann MB, Bach M, Kondo M, Li S, Walker S, Holopigian K, Viswanathan S, Robson AG (2021) ISCEV standard for clinical multifocal electroretinography (mfERG) (2021 update). Doc Ophthalmol 142:5–16
Robson AG, Nilsson J, Li S, Jalali S, Fulton AB, Tormene AP, Holder GE, Brodie SE (2018) ISCEV guide to visual electrodiagnostic procedures. Doc Ophthalmol 136:1–26