Posted on Friday February 26, 2021
Our Transfer function lets you transfer test files and protocols between machines. Transfer files are saved as encrypted .EXP files that can only be opened with Diagnosys Software.
Transfer Records or Protocol Files OUT
1. To transfer records and protocols, locate the Transfer button. Be aware that there are 3 separate Transfer locations because options vary depending on which you select.
2. Choose one of the following options:
(a) Transfer Test Results
Click Transfer from the Old Tests Page.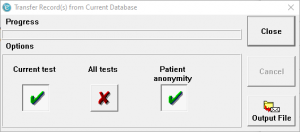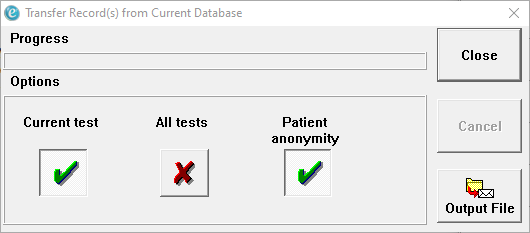 Select either current test or all listed tests.
Choose whether to anonymize data.
(b) Transfer Protocols
Click Transfer from the Protocol Page.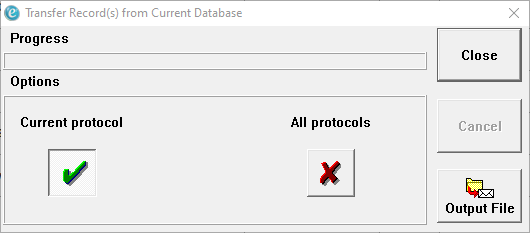 Choose either current protocol or all protocols.
Note that this option does not transfer out test results.
(c) Transfer a Patient(s) with all of their Test Results

Click Transfer from the Patient Page.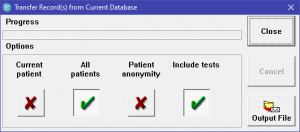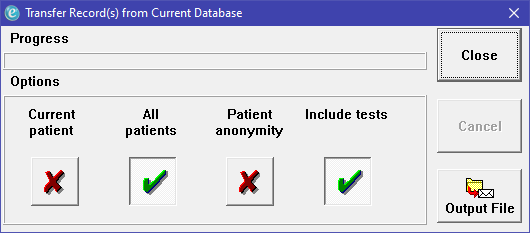 Select either current or all patients.
Decide if you need to anonymize this data.
Choose whether or not to include test results.
3. Click on Output File and save to a specified location. When the Progress bar turns 100% blue, the Transfer is complete.
You may now move or share your files. Refer to Transfer In article to open these files.