Posted on Wednesday March 3, 2021
Consolidate multiple databases into a single file.
Merge Databases:
1. Choose which database will be your main, all others will be merged into this one
2. Open a database whose data will be merged into the main
3. Select Transfer from the Patient Page, choose All Patients and Include Tests then Output File to an accessible location, like your desktop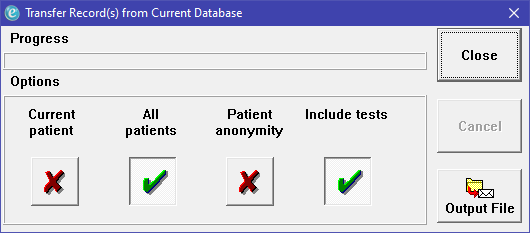 4. Repeat the Transfer Process (step 3) for every database or set of files
5. Once you have all of the Transfer files, then connect to the Main Database through Database Center, Connect
6. Next Transfer In all of the files via Database Center, Transfer In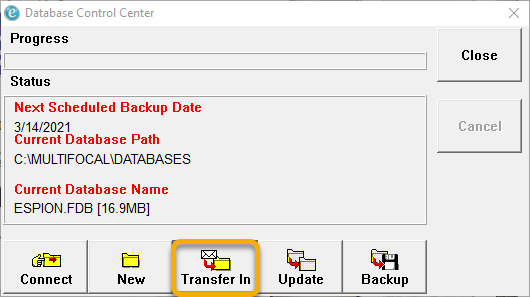 6. Select the files to transfer, click open
7. Click Advanced to configure your Import Settings
Choose how to manage duplicate records. If a duplicate is found, it can be merged or overridden. Duplicates may be determined by Unique ID or other identifying information. If there's a chance that you have overlapping patients in multiple databases, it would be better to use Subject Name and DOB as the duplicate criteria.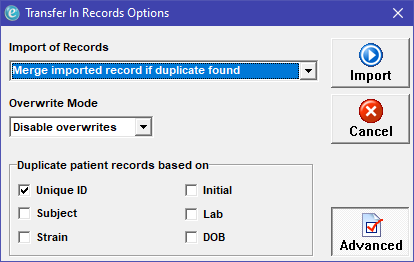 8. Select Import to move the selected data into your Main Database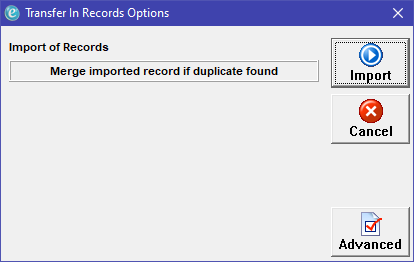 When the Progress Bar turns 100% Blue the Transfer is complete.
After transferring each EXP file, you should have one Main Database.